---
Features
College president receives dual honors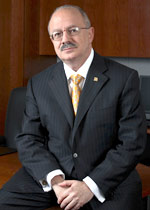 Dr. Eduardo J. Padrón
Dr. Eduardo J. Padrón was recognized recently for his continuing service to South Florida.
First, as an honoree at a tribute luncheon of the Holocaust Documentation and Education Center, Padrón was honored for his commitment, dedication and support in ensuring that the legacy and lessons of the Holocaust will be remembered and taught to present and future generations. Also honored were U.S. Rep. Debbie Wasserman Schultz, Dr. John Davies and Sandy Miot.
The Holocaust Documentation and Education Center was established in 1979 as a nonsectarian, nonprofit organization devoted to teaching youths the evils and dangers of racial hatred, bigotry and indifference through the lessons of the Holocaust. The center maintains the largest self-produced and standardized oral
history library collection in the world.
Steven Spielberg's Shoah Foundation, the United States Holocaust Memorial Museum, the Raoul Wallenberg Project and the Simon Wiesenthal Center have all utilized the center's expertise in developing their oral history programs.
Padrón will also be honored at the Third Annual Holiday Gala of the Miami-Dade Chamber of Commerce for his outstanding contributions to the Chamber and to the greater Miami community.
"The Chamber has a long history of working with Miami Dade College and we are excited to present this award to Padrón for his continued support of small businesses in Miami Dade County," said Bill Diggs, president of the Chamber.
The gala will honor the accomplishments of top minority professionals and businesses in South Florida.
Padrón is being honored with a Distinguished Service Award for his many contributions. The attorney H.T. Smith will also be honored.
— Gariot P. Louima and Katherine Joss
More Features Articles