---
Features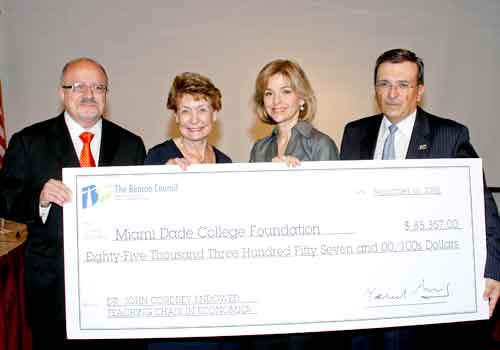 Beacon Council funds teaching chair in economics
Officials from the Beacon Council, Miami-Dade County's economic development partnership, presented a check for nearly $86,000 to the Miami Dade College Foundation at a recent meeting of MDC's District Board of Trustees. The Funds will be used to establish the Dr. John Cordrey Endowment Teaching Chair in Economics at the College.
Cordrey was the Beacon Council's vice president of research and strategic planning. He worked at The Beacon Council since the organization opened its doors in 1987. Until his passing in October 2004, he led many award-winning research projects for the Council, including the One Community One Goal initiative.
"We are proud to continue the legacy of Dr. John Cordrey in partnership with Miami Dade College," said Frank Nero, Beacon Council president and CEO. "The endowment puts the much-needed emphasis on teaching and the importance of education.
— Staff Report
More Features Articles