---
Features
NBA player's donation creates endowment fund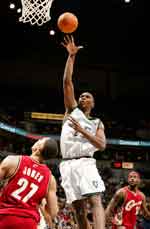 Al Jefferson
Minnesota Timberwolves center/forward Al R. Jefferson donated $25,000 to Miami Dade College to establish a scholarship endowment at North Campus.
The Alvin Randolph Memorial Scholarship Endowment Fund, named after Jefferson's late father, will provide need-based scholarships to first-generation entrepreneurship and business students enrolled at MDC's North Campus or its Carrie P. Meek Entrepreneurial Education Center.
Jefferson has been in the NBA for four seasons. His aunt, Teddie Laing, chairperson of North Campus' School of Business, presented the check to the District Board of Trustees on his behalf.
"We are tremendously grateful that Mr. Jefferson chose MDC as the first institution of higher education to which he is making a financial contribution, particularly in light of the tough economic times our students face," said North Campus President Dr. José A. Vicente.
Jefferson says the biggest influence in his decision came from watching his younger sister Jazma make it through her first year at MDC with support from the College and others.
"Miami Dade College has been great to my family, and with this contribution, I'm able to accomplish two important goals: formally honoring my father, who passed away suddenly when I was seven months old, and helping highly motivated, deserving students who are the first in their families to attend college," said Jefferson. "This institution gives everyone – regardless of economics, social status or ethnicity – an opportunity to earn a degree, prepare for a career or fulfill personal goals."
The Alvin Randolph Memorial Scholarship Endowment Fund is expected to begin awarding scholarships to eligible students beginning in August 2009. Scholarships will be awarded to MDC students who have been accepted for admission or are officially enrolled in the College's business or entrepreneurship programs; are U.S. citizens or permanent residents; who demonstrate financial need; and have at least a 2.5 GPA.
— Tarnell Carroll
More Features Articles