---
Academics
Feeding the hungry while feeding the mind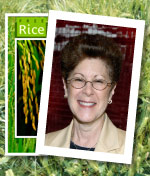 Suzanne Pearl
College prep students in professor Suzanne Pearl's reading classes on Wolfson Campus learn to expand their vocabulary while contributing to the fight against world poverty.
Pearl took advantage of a novel Web site, Freerice.com, that provides online players with word definition challenges and rewards each correct answer with a donation of 20 grains of rice to the United Nations World Food Program. All donated rice is funded by corporate sponsors.
"Freerice.com is a great tool for weaving service-learning into class because of its flexibility," Pearl said. "Many of our students have extraordinary work and family responsibilities that create challenges in scheduling a service-learning project. Drawing upon Freerice.com simultaneously improved my students' vocabulary skills and gave them the chance to help those suffering from the scourge of hunger."
Pearl now includes assignments related to the topic of local and global hunger in her college prep reading classes. Along with a weekly word requirement on Freerice.com, students read, discuss and write reactions to articles about the problems of hunger worldwide.
In Pearl's summer classes, a speaker from the Daily Bread Food Bank addressed the problems of hunger in Miami. As a result of that visit, students donated canned goods to the Food Bank to help fight hunger in the local community. Students also composed e-mails to friends and family to spread the word about Freerice.com. In addition, each student printed out a prototype letter from the Web site and sent it to President George W. Bush, urging him to send aid promised by the U.S. to impoverished countries around the world.
"According to the student feedback questionnaire devised by the Center for Community Involvement, my classes using Freerice.com expressed a high degree of satisfaction with their service-learning project," Pearl added. "Students saw an improvement in their vocabulary skills. Assignments were easy to complete because of access to computers at school, home or work. And, possibly most significantly, students felt their contributions via Freerice.com made a difference in the world."
"The use of Freerice.com has extended to other classes as well and has the potential to be used college-wide," said Jo Anne Zarowny, program coordinator for the Center for Community Involvement. "Freerice.com has added other subject areas, including English grammar, famous paintings, chemistry, mathematics and foreign languages. Professors in these disciplines now have the opportunity to easily incorporate a service-learning project into their classes that gives back to the global community."
— Barbara Bickel
More Academics Articles