---
Academics
Professor teaches students about serving in a deeper way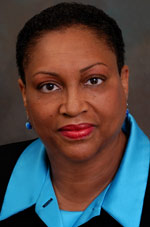 Gibson
Teaching is Annette Gibson's passion. The community activist, health care advocate and Miami Dade College professor is also passionately committed to service-learning and volunteerism.
As a professor in the School of Nursing, she is a staunch believer in integrating hands-on, community-focused learning activities into the Colleges' curriculum and teaching process.
Service-learning brings learning from behind desks out into the community. Gibson believes that this is a hard task. It is easier to deliver a lecture, but teaching students to apply what they've learned is more of a challenge.
Even so, she is committed to service-learning, as it involves students in the "deliberate and active engagement of the learning process, while serving the community," said Gibson, the recent recipient of the Service-Learning Faculty Award from the Florida Campus Compact. She was presented with this honor at the 2008 Florida Institute on Service-Learning & Engaged Scholarship.
"It is important to reflect what we believe about health care" Gibson said.
She believes that health care shouldn't be only a privilege, but that everyone should have access. Reflecting that view, she is deeply involved in many aspects of the Miami Rescue Mission which provides comprehensive services to the homeless communities of Miami-Dade and Broward counties.
She organizes nursing students to apply their skills to assist this vulnerable population through work in shelters as part of their curriculum. Most programs at MDC's Medical Center Campus are involved in service-learning, offering students innovative and unique opportunities. By offering their service, students become responsible to their community, thereby fully exercising their rights as citizens.
This sort of volunteerism inspired at least one nursing student, Marisa Rodríguez, to commit to advocating for Amendment 8 last year.
"What I learned during my service activity strengthened what I learned during my community health nursing course and the importance of being involved in the community," Rodríguez said of volunteering.
"It makes me feel really good," says Gibson.
Thankfully, Gibson continues to enlighten students in the health care field. It's "about doing something;" about learning, "in a deeper way.
— Liz Tracy
More Academics Articles