---
Alumni News
Education was the key to firefighter's success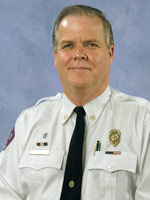 Reed
When Walter R. Reed joined the Coral Gables Fire and Rescue Department in 1987, he told himself he'd one day ascend to the department's highest post.
Twenty years later, he reached his goal.
"If I hadn't started my education at Miami Dade College, and continued my education through Miami Dade College, I wouldn't be where I am today," said the new Coral Gables fire chief.
Coral Gables Fire and Rescue is a Class One fire department, an accreditation given by the International Organization of Standardization, the leading source of information for measuring, managing and reducing risk. The distinction is held by about 60 out of more than 45,000 departments, nationwide.
Born and raised in Miami, Reed was the first in his family receive a college education. After receiving his Associate in Arts with a concentration in political science, Reed went to work on to complete a bachelor's in public administration.
"I wanted the opportunity to help others," Reed said.
A high school buddy who had become a firefighter told him he could truly serve people by entering the field.
He began working on his third degree: an Associate in Science in Fire Science Technology at MDC.
At one point, Reed was actually working toward multiple degrees at once. He was also enrolled in a master's of public administration program.
Reed then went on to earn his bachelor's degree in fire and safety engineering from the University of Cincinnati, where he graduated with highest honors.
After one year in the Davie Fire Department, he decided he also wanted to be a paramedic. Experts in the profession believe dual certification is a crucial component of the future of fire departments.
With the paramedic's license in hand, Reed joined the Coral Gables Fire and Rescue Department, which also provides ambulatory services.
"My education hasn't stopped since," Reed said.
His daughters are following his example. Two of his four daughters are also students at MDC, where Reed has taught one class per semester in the School of Fire and Environmental Sciences since 1995.
"It's my way of giving back to the community," he said.
— Pilar Ulibarri de Rivera
More Alumni News Articles