---
Features
North Campus now home to region's most diverse palm collection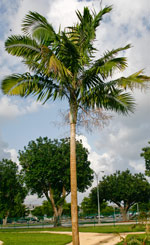 This palm tree is a new addition to the North Campus landscape.
Things have gotten a bit greener at MDC's North Campus.
Dozens of native and exotic palm trees have been planted at the campus in northwestern Miami-Dade County. The Palmetum, as it has been dubbed, is part of the new $40 million Science Complex, which is slated to open some time in 2009.
The Palmetum contains the most diverse collection of palms in the region outside of Fairchild Tropical Botanic Garden, which assisted MDC faculty with the collection.
Two architecture students, Reymi Sánchez and Yasmany García, designed the Palmetum as a 140,000-square-foot space that connects a series of circular walkways surrounded by palms from around the world.
With only one week to sketch and prepare their palm-lined plans, students had to face a jury that included Cristina Mateo, the dean for administration at North Campus who is overseeing the construction of the Science Complex. "The students produced a design that is fascinating," architecture professor José Vázquez said. "Typically they don't get to see their project built."
The state-of-the-art Science Complex will be the first new science facility to be constructed at the campus since the 1960s.
The three-story structure is to include new laboratory facilities for biology, chemistry, physics, earth sciences and astronomy, as well as classrooms; faculty and administrative offices; a greenhouse; a botanical garden; and a large plaza area facing the North Campus lake.
Additionally, the complex is to include research facilities for students and faculty on the two laboratory floors.
Beyond providing modern facilities for science students, the Science Complex will also afford the campus a new outdoor venue for college and community events.
— Staff Report
More Features Articles