---
Features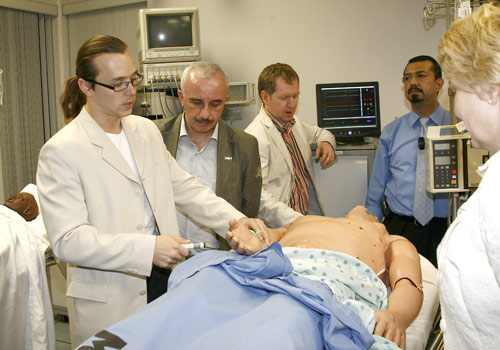 Top Russian doctors come to MDC for new strategies
Miami Dade College is a top destination for health professionals from around the globe looking to further their education. Earlier this year, the College hosted nurses and opticians from Saudi Arabia in a six-week training program. While visiting the College's renowned Medical Center Campus, the 10 medical specialists learned strategies to advance their careers while obtaining a global view of health care.
In another recent academic exchange, doctors and health professionals from Mozambique visited MDC to study with College professors and research new techniques to address the HIV/AIDS crisis in their homeland.
Most recently, five Russian physicians visited MDC as part of the Open World program, an international exchange aimed at enhancing understanding and sharing knowledge between the U.S. and Russia.
The program is a partnership of the Open World Leadership Center at the Library of Congress.
The physicians' Open World program was coordinated by the Academy for Educational Development (AED), a nonprofit organization working globally to improve education, health, civil society and economic development.
"The program's mission is to enhance understanding and capabilities for cooperation between the U.S. and Eurasia by developing a network of leaders in the region who have gained firsthand exposure to the U.S.," said Beverly Attallah, vice president and director of the Center for International Exchanges at AED.
The physicians met with College leaders at Medical Center Campus to discuss continuing medical education and preventative medicine in a roundtable discussion. They also met with students and visited a public health laboratory and a community health center at a local homeless shelter.
Dr. Aleksey Privalov, professor of oncology and chief surgeon at Chelyabinsk State Medical Academy applied to the program to extend his professional experience and learn about American cancer treatments.
"We greatly appreciate being here and have met many kind people. The American health care system is very different from the Russian/European health care system," he said.
The doctors also visited Jackson Memorial Hospital's AIDS clinic and emergency room facilities. Jackson Memorial, where many MDC nursing and health science students are trained, is continually ranked in U.S. News & World Report as one of the best hospitals in America.
"The program enables participants to interact with their professional counterparts, while experiencing U.S. culture and society," said Attallah.
"It was exciting because for many of us, this was our first time in the U.S. We have learned a lot about American culture," Privalov said.
— Staff Report
More Features Articles