---
Cultural Spotlight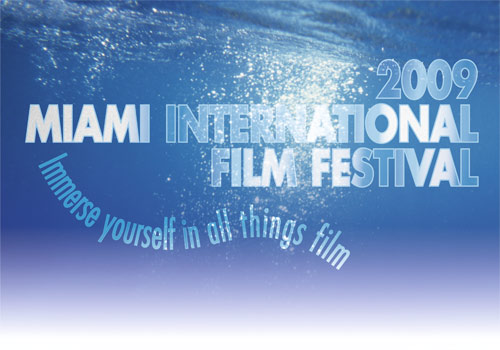 Film Festival Highlights
Cinephiles will have much in which to delight from March 6-15 as Miami Dade College presents the 26th edition of Miami International Film Festival.
The Festival will screen 137 films – including 97 features and 40 shorts – at venues throughout Miami-Dade County. Actor, director and producer Andy García; fashion industry icon Valentino; director Abel Ferrara; international disc jockey Paul Kalkbrenner; and Oscar-nominated actor Willem Dafoe are expected to walk the red carpet at the historic Gusman Center for the Performing Arts in downtown Miami.
Below are some highlights of the 2009 Festival.
Opening Night Film
Valentino: The Last Emperor, from director Matt Tyrnauer
Friday, March 6, 7 p.m.
Gusman Center for the Performing Arts
174 E. Flagler St., Downtown Miami
Valentino has built his career making women look beautiful while forging a global brand out of the refined art of haute couture. This chic and affectionate documentary also charts the mutual dependency and tensions in Valentino's 45-year association with Giancarlo Giammetti, his sometime boyfriend and constant life and business partner.
Career Achievement Tribute to Abel Ferrara
Thursday, March 12, 7 p.m.
Gusman Center for the Performing Arts
174 E. Flagler St., Downtown Miami
The Festival will honor independent filmmaker Abel Ferrara with the Career Achievement Tribute Award. New York is a constant in Abel Ferrara's oeuvre – from the underworld fiction of King of New York and Bad Lieutenant, to Chelsea on the Rocks, his recent documentary about the historic hotel and the poets, artists and musicians who have lived there. Like the city where he was born in, Ferrara and his films are diamonds-in-the-rough, solid and often crude, at times brutal, yet always true, heartfelt and full of grace.
Awards Night Film
Empty Nest, from director Daniel Burman
Saturday, March 14, 7 p.m.
Gusman Center for the Performing Arts
174 E. Flagler St., Downtown Miami
A middle-aged couple, played with perfect chemistry by Cecilia Roth (All About My Mother) and Oscar Martínez, look for ways to escape their empty nest syndrome when their youngest adult child moves out. The latest comedy hit by Argentine Daniel Burman (Lost Embrace).
Cutting the Edge
The newest festival section, Cutting the Edge, is an exciting observation of audio-visual experimentation. This program showcases provoking – and sometimes extreme – works that stand at the crossroads of video art, boldly intersecting with other art disciplines.
Beket, from director Davide Manuli. Loosely based on Samuel Beckett's Waiting for Godot, Beket takes place in a no man's land outside of time when mankind no longer inhabits the planet. Freak and Jaja meet at a bus stop in the middle of nowhere where a bus arrives but doesn't stop.
Hunger, from director Steve McQueen. Winner of the 2008 Camera d'Or at Cannes for Best First Feature, Hunger is a powerful drama focusing on the infamous six-week hunger strike that IRA prisoners, led by Bobby Sands in the early 1980s, used as a way of publicizing their demands to be recognized as political prisoners.
On War (De la Guerre), from director Bertrand Bonello. A hypnotic rumination on life, liberty and man's relationship to nature, On War unfolds mostly at The Kingdom, a mysterious mansion in the countryside where the inhabitants investigate what is required to experience true unfiltered spiritual, mental and physical pleasure. Mathieu Amalric and Asia Argento deliver tour de force performances.
Shallow, from director Malcolm McLaren. A multimedia work, the Musical Paintings (Shallow 1-21), are a series of original musical cut-ups composed by McLaren set to appropriated clips selected and edited of ordinary people who are about to have sex.
Universalove, from director Thomas Woschitz. Composed from an assortment of images and set to a haunting soundtrack by Austrian indie band Naked Lunch, Universalove is a new type of music film. Similar to cinematic mood pieces, such as Baraka and Koyaanisqatsi, it weaves together collectively understood images for a symphony that traverses all languages, cultures and orientations.
This information is subject to change. For tickets, screening venues and times, visit www.miamifilmfestival.com.
More Cultural Spotlight Articles