---
Cultural Spotlight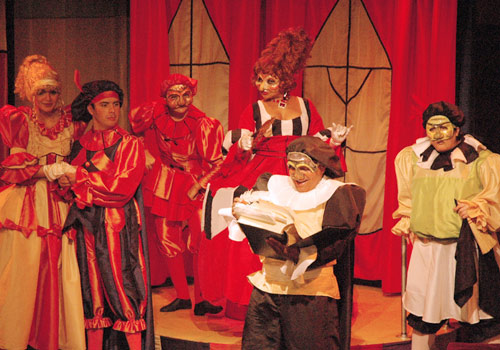 Program leads to success for working actors
Launched in 2007, the Professional Acting Training program at MDC's Prometeo Theatre is the first of its kind. Taught completely in Spanish, the program is innovative because the professors treat students like professional company members.
"Being the only Spanish-speaking conservatory in the nation is a great honor," said Joann Yarrow, Prometeo director. "But we are especially proud that our graduates will be prepared to walk into any theater in the world, confident in their abilities, ready to work and continue to develop their craft."
Yarrow said the Prometeo curriculum cultivates and encourages each actor's distinctive potential. And the critics agree. A student in the inaugural class – set to graduate in May – is already making headlines.
Rocio Carmona received accolades early this year from El Nuevo Herald for her performance in Los Intereses Creados by Jacinto Benavente. The newspaper selected her performance as one of the 12 most memorable of 2008, and the production itself was called "fresh" and full of "vitality," with the reviewer noting that it surpassed the typical student interpretation.
"I was surprised and grateful for the recognition, but I was particularly happy to see the entire company singled out," Carmona said. "Prometeo is playing a very important role in my development as an actress. I have had many opportunities to continue my growth."
For this year's end-of-the-term performance, first-year students will present a selection of scenes from Anton Pavlovich Chekhov's one-act plays, his memoirs and his life with a poetic realism that complements his body of work.
The production, Chejov vs Chejov, brings to life the world of one of the most influential masters of modern theater and the short story. Chekhov's work offers profound insight and understanding of the human soul.
"We offer a diverse program of study where students experience both the contemporary and classical styles of theater so that each of our graduates can achieve the most from their education," Yarrow said.
— Katherine Joss
More Cultural Spotlight Articles