---
Features
Padrón elected chair of AAC&U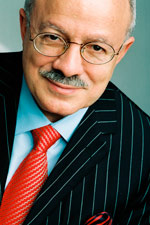 Dr. Eduardo J. Padrón
The membership of the nation's most important organization in higher education, the Association of American Colleges and Universities (AAC&U), has elected Miami Dade College President Dr. Eduardo J. Padrón as its chair.
Padrón is the first Hispanic, Floridian and community college president to hold this key post. His selection was announced at the AAC&U's recent annual meeting. Last year, he served as the organization's vice chair.
"I am extremely honored and humbled by this recognition from my colleagues," Padrón said. "As we embark on one of the most challenging years ever for higher education, I look forward to serving with them as we advance a comprehensive agenda that will help maintain the nation's colleges and universities as the best in the world."
AAC&U comprises more than 1,100 accredited colleges and universities that collectively educate more than 5 million students every year. It is the leading national association concerned with the quality, vitality and public standing of undergraduate education. Its members are committed to extending the advantage of a liberal education to all students, regardless of their academic specialization or intended career. Founded in 1915 by college presidents, AAC&U now represents the entire spectrum of American colleges and universities — large and small, public and private, two-year and four-year.
The mission of the AAC&U is to make the aims of liberal learning a vigorous and constant influence on institutional purpose and educational practice in higher education. MDC worked closely with the AAC&U to implement its Learning Outcomes initiative aimed at ensuring that students who graduate from the College have the skills necessary to succeed in business and life.
Padrón, who has been a leader in higher education for four decades, has been named to numerous national boards including appointments by four U.S. Presidents. He has also received major awards from leading organizations in the U.S. and abroad. Since 1995, he has served as the president of Miami Dade College, the nation's largest institution of higher education with an enrollment of more than 167,000 students.
— Staff Report
More Features Articles