---
Academics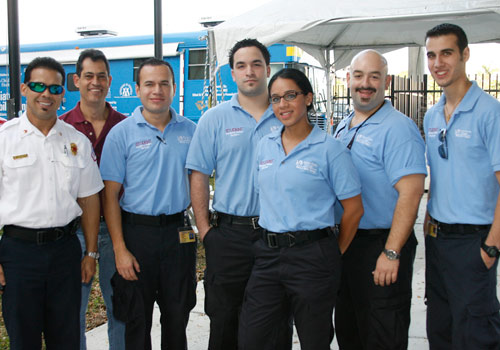 Professor steers clinical studies
You might not find Robert Jorge on campus very often, but that doesn't mean he's not there for his students.
In fact, as the director of clinical education for the Emergency Medical Services (EMS) program at Medical Center Campus, his job requires him to be all over the place – whether he's at local hospitals like Jackson Memorial and Mercy or on the road in an ambulance.
Since he teaches the clinical portions of the paramedic and emergency health services courses at MDC, these locations are his classrooms, where students get hands-on practice with patients in a clinical setting.
Program requirements can get intense, and not just because of the emergencies involved in EMS. Students are required by state regulators to complete 200 hours of field internships, which is where Jorge comes in. He helps place students in an appropriate program and also serves as an advisor if they encounter any issues along the way.
"There's a regimen there, and it teaches [students] to be responsible for their actions or lack of action," he said. "You have to develop very inventive schedules to meet those requirements – weekends, weekdays, you have to get it accomplished in a non-traditional way."
Jorge is no stranger to demanding work schedules. As a fire rescue lieutenant in the City of Miami, he alternates his time between work at MDC and his twice-a-week, 24-hour shifts with the city. And as a teacher with real-life experience in the field, he can relate to his students' experiences, especially since he was once in their same shoes. Having grown up in Miami, he studied in MDC's paramedic program and, upon graduating in 1996, started working here as an adjunct professor. Now that he's on board full time, he's also been involved in recruiting students into the program.
"Ultimately our goal is to have the students, not only finish the paramedic program, but also finish their associate in EMS," he said. "It's important to have a good work ethic. It'll carry you through to the rest of your life."
— Hector Pino
More Academics Articles