---
Academics
Motivated by student achievement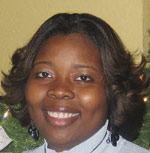 Jakeisha Thompson
From its inception in 2004, MDC's Quality Enhancement Plan (QEP) always had two main objectives: to improve student academic performance and to improve student attitude toward the learning of mathematics. Making it all come together is its director, Jakeisha Thompson.
At the QEP's helm for the past two years, Thompson has been responsible for managing the overall implementation of this five-year collegewide initiative. She attributes her success to an auspicious blend of background and foreground.
While pursuing a bachelor's in electrical engineering, to which she added a master's in financial mathematics, Thompson interned with companies like Honeywell and General Electric. GE's Early Identification Leadership Development program provided her with extensive practical training in areas such as leadership principles, operations management, quality control, team building and negotiations.
"I believe that this experience taught me how to stand between two seemingly opposing dichotomies and bring clarity, understanding and unity so that synergy can take place," she said.
And synergy is what you find at MDC classrooms across the county. Research findings indicated that math was a major barrier to graduation for a number of students. The QEP was fashioned to overcome this hurdle.
"Miami Dade College believes in 'students first,' and I am an avid supporter of this credo," she said. "As a math professor, the success of my students is and has been the number one motivating factor for decisions that I make concerning the learning strategies and resources that I bring to the classroom."
Thompson's dedication and motivation are unequivocal, and her students are the greatest beneficiaries.
"The commitment to and the successful implementation of the QEP speak to students, faculty and the surrounding community," she said. "I believe that I have been entrusted with the responsibility to serve my students by investing in their skill development, inspiring confidence within them, and influencing them to reach beyond their apparent fears and reservations to realize that they can achieve great things."
Thompson could not think of a better academic arena than MDC.
"My passion to keep learning and improving is supported by that fact that I have been able to consistently innovate the classroom experience by incorporating new strategies, new technology, and new systems, while gaining the confidence, exposure, experience, and edge necessary to effectively blaze new trails personally and professionally," Thompson said. "The 360-degree support for the QEP, its goals and my personal development, is a true representation of the commitment to success, spirit and culture of Miami Dade College."
Related story: Math students' attitudes changing
— Hector Pino
More Academics Articles