---
Cultural Spotlight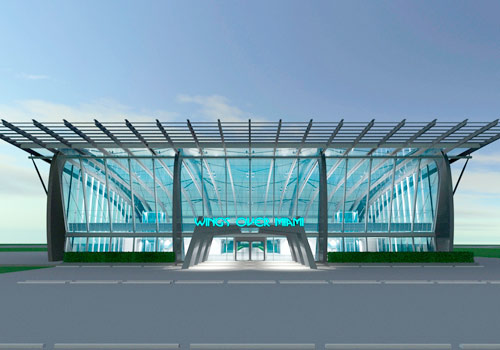 2009 Architectural Showcase
MDC student Javier Suárez believes the works he designs today will connect him to architects and builders of the past. The timelessness and relevance of this profession also links MDC students to master conceptualists like Frank Lloyd Wright.
The 2009 Architectural Showcase at MDC's Freedom Tower featured architectural models, free-hand renderings, and digital and mechanical drawings produced by architectural students at North, Wolfson and Kendall campuses during the academic year.
Suárez's work is a conceptual redesign of the Wings Over Miami Museum at the Kendall-Tamiami Executive Airport, a project for Design 4, an advanced architecture class with professor Henry Lares.
Like a real-life project, students were given the assignment, visited the existing museum for site analysis, had to familiarize themselves with zoning rules, create floor plans and, finally, a model.
Suárez, who is a semester away from graduation, said he's excited about showing his work to the public. While he hasn't decided where he wants to study after MDC, he says he wants to remain in South Florida. José Lozano, chair of MDC's School of Architecture, said the program is known for producing top-quality, award-winning students and "for being a passport to some of the top architectural institutions in the nation."
This end-of-the-year show offers students the opportunity to share their designs and creations with the rest of the Miami-Dade community.
Lares, coordinator of the 2009 Architectural Showcase, finds that the best part of this annual event is that it "affords ample opportunity to a large number of experienced professors to design, guide and execute a variety of projects during the period of one year."
The professors carefully oversee the development of the students' architectural talents through a succession of constructed exercises and students thus learn advanced design schemes.
"This is a wonderful opportunity for bright and ambitious young designers to show their work to an appreciative audience of architects and design professionals who, no doubt, still remember the excitement of having exhibited at an age when they were young college students themselves."
— Elizabeth Tracy
More Cultural Spotlight Articles