---
Cultural Spotlight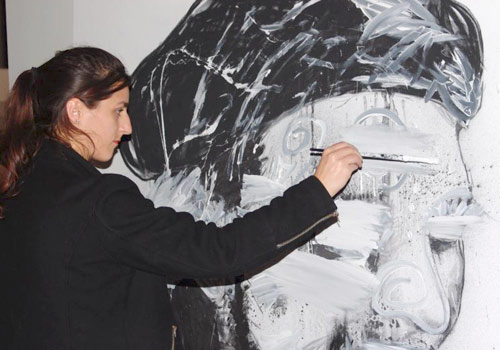 An exploration of art as political expression
Not Welcome
May 21- June 3 and July 10 - Aug. 14
The Freedom Tower at MDC
Second Floor
300 N.E. Second Ave., Downtown Miami
Call 305-237-7186 or e-mail galleries@mdc.edu.
MDC's Art Gallery System (AGS) is set to open a compelling new art project this month at the Freedom Tower on its Wolfson Campus. Not Welcome investigates how art can serve as individual political expression in a totalitarian system, an idea unfamiliar to many Americans.
"In many parts of the world, where totalitarian states have trampled free expression, art simply transforms the raw materials of ideology into images intended for general consumption," said Jorge Gutiérrez, AGS director.
In other words, totalitarian states often produce art that serve their oppressive ends, Gutiérrez explained.
"There is a striking similarity in totalitarian art from different cultures," Gutiérrez said. "The similarity is due to political leaders being guided by political instinct and the demands of the ideological struggle."
In Not Welcome, contemporary artists will address the issues surrounding totalitarian iconography. Using paintings, installations, videos and mixed media, the artists tackle the idea that the past – even if horrific – must be confronted rather than swept away.
"Viewers need to understand the human concerns in a work of art, not just the aesthetics. The work in Not Welcome clearly demonstrates each artist's perspective," Gutiérrez said.
One artist, Pablo González-Trejo, will use the exhibition environment to help create his art. In a revolutionary, interactive approach, Trejo will offer paint and brushes so viewers can add to his canvases. González-Trejo's paintings – all portraits of dictators – are intended to provoke reaction. Viewer reactions are captured in paint, and the often crude results are honest and engaging.
"There are two perspectives in Trejo's work," Gutiérrez said, "his own and those of his viewers. His art is transformed by people's reactions."
The idea is based on González-Trejo's personal experiences. His father once painted over one his works, which featured an image of Che Guevara.
A panel discussion and a lecture by each participating artist will be presented as part of the educational initiatives offered in conjunction with the exhibition.
— Katherine Joss
More Cultural Spotlight Articles