---
Features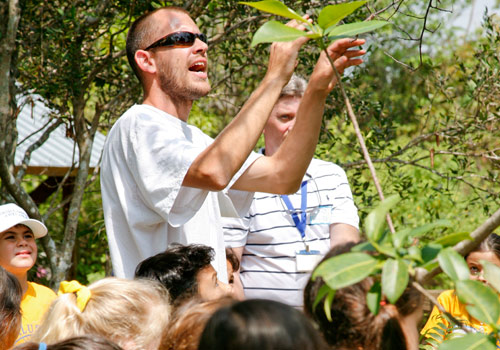 Preserve and protect
Each spring for the last four years, Jake Tucker has geared up for a presentation to 50-70 Miami Dade College employees. A passionate speaker, he talks of natives and exotics, protection and restoration. And his presentation is engaging, filled with light and shadow, and the enticing sounds and scents of the natural world.
Tucker is educating the public about MDC's Environmental Center, and his presentation, complete with guided tour, is part of Conference Day, MDC's annual professional development day for college employees.
The Environmental Center, a nature preserve on MDC's Kendall Campus, features a mosaic of ecosystems, including tropical hardwood hammock and freshwater wetland, all adjacent to one of the cleanest lakes in Miami-Dade County.
The center also features an extremely rare and diverse ecosystem called pine rockland. At one time, South Florida was covered in almost 200,000 acres of pine rockland, but now less that 2 percent is left. Urban expansion in the region destroyed most of it, with developers praising the land for its drainage qualities.
Tucker – head groundskeeper at the center – is part of a growing "green" trend to save native ecosystems like pine rockland. He says the Conference Day presentation helps get the word out.
"Because so much pine rockland is already gone, people aren't familiar with it," Tucker said. "One of our goals at the Environmental Center is to return as much of the native ecosystem as possible, back to its natural state."
Pine rockland is one of the most endangered ecosystems in all of North America and South Florida is the only place in the country where it exists. It grows along the historic Miami rock ridge, a limestone ridge made up of remnants of an ancient coral reef. It is unique because the towering slash pines that give it its name have adapted to grow directly on the ridge, instead of in soil.
As part of the College's service learning initiatives, students volunteer at the center every day. And being in the School of Community Education helps the center reach out to the community with a variety of personal enrichment classes.
Faculty members are also encouraged to bring their classes to the center and teach outside.
"Studies have shown that students are more receptive in a natural environment," Tucker said.
In addition, being at the center helps students to "recognize the impact of humans on the environment," one of the College's 10 Learning Outcomes. The Outcomes intend to develop attitudes that foster effective citizenship.
Bringing people into the center, and educating them on the rarity of pine rockland, is a key to generating interest in preservation. Ideally, that will help save what little pine rockland is left.
And saving it is important. Not only is the ecosystem rare, it is also exceptionally diverse. The pine rockland at the center features a large number of rare flora and fauna including slash pines and gray foxes. There are also native turtles and tortoises, and a healthy population of native snakes, a prime indicator of the vibrancy of the ecosystem.
Many birds make a stop at the center on their annual migration routes. And historically, our state animal, the endangered Florida panther, as well as the American black bear, also roamed pine rockland habitats.
When asked what ordinary people can do to help, Tucker responded with this sage advice: "Turn your yard into a natural habitat. By planting native species and removing exotic plants, you can return it to what it once was. You will attract butterflies and support the animals that live here. I try to think about it from the animals point of view, they need every square inch of this habitat."
— Katherine Joss
More Features Articles