---
Features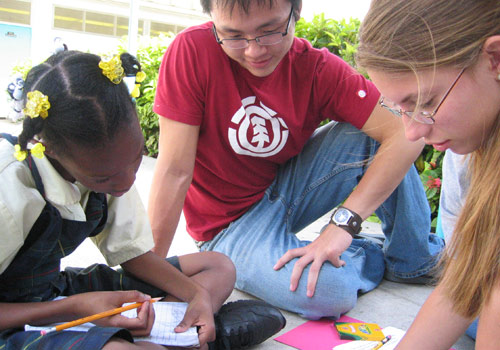 MDC hosts summit on social responsibility
Approximately 100 leaders of the state's educational institutions, business, foundations, media, civic and government sectors will convene at Miami Dade College later this month for "Responsibility in a Time of Crisis," a cross-sector discourse hosted by MDC and the Association of American Colleges and Universities (AAC&U).
The forum is one in a series of public meetings on the key core commitments of AAC&U's LEAP initiative, Liberal Education for America's Promise. "Personal and social responsibility" is among those key commitments.
At the forum, leaders will discuss how higher education institutions can produce graduates with these characteristics and how organizations, government and corporations can help shape the demand – and the expectation – for such learning from our schools and colleges.
The goal of the forum is to develop a shared sense of commitment and a forward-looking cross-sector agenda that emphasizes and reinforces students' development of personal and social (including civic) responsibility, explained Dr. Norma Goonen, MDC's provost for academic and student affairs.
The event is scheduled for May 21 in the Chapman Conference Center on MDC's Wolfson Campus. The opening session will feature Thomas Ehrlich, a distinguished national scholar on civic engagement. Ehrlich is a senior scholar at The Carnegie Foundation for the Advancement of Teaching and former president of Indiana University.
The AAC&U is the leading national association concerned with the quality, vitality and public standing of undergraduate education. It comprises more than 1,100 accredited colleges and universities that collectively educate more than five million students every year. Earlier this year, the membership of the AAC&U elected MDC President Dr. Eduardo J. Padrón as the chair of its board of directors.
— Staff Report
More Features Articles