---
Features
Graduate wins prestigious Jack Kent Cooke award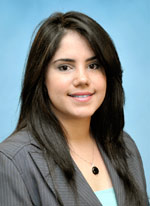 Anahi Cortada
Anahi Cortada, an international relations major at North Campus, won a prestigious Jack Kent Cooke Foundation scholarship worth up to $60,000 to continue her education.
She was one of 30 students chosen from a national pool of nearly 500 applicants.    
Cortada, a native of Cuba who has been in Miami for five years, was also accepted to Georgetown University. 
"Oh, my God! I couldn't believe it," she said. "I felt so happy."
Cortada came to Miami in 2003, leaving behind family, friends and most things that felt familiar. At Hialeah Senior High, she was enrolled in English for Speakers of Other Languages and worked hard to pass the FCAT and SAT exams. She took additional classes at night, read books in English, avoided Spanish television, and even practiced talking in front of the mirror.
As Cortada excelled in school, her mother worked factory jobs and at gas stations to support the family.
"There were days when I never even saw [my mom]," she said. "She was working so hard, had left her family behind to give me and my sister a better life. I wanted to show her it was worth it."
The hard work paid off when Cortada graduated from Hialeah High summa cum laude. MDC's Honors College offered Cortada a full scholarship, access to unique programs and new opportunities, as well as the chance to stay close to home.  
"She's one who basically went for every opportunity that came her way," said Dr. Michael Lenaghan, a Georgetown graduate who teaches government and international relations at North Campus.    
Cortada participated in the National Model United Nations Conference in New York City two years in a row. This year, she was head delegate of the group representing the Philippines. She was managing editor of North Campus' award-winning student newspaper, The Falcon Times. Last October, the 20-year-old received an award for design from the Florida Community College Press Association at its annual conference in Sarasota. 
Her favorite College experience, she said, was attending the Salzburg Seminar in Austria with The Honors College. The seminar brings together individuals from all over the world to explore social, political and cultural issues. The students are also treated to a two-day cultural tour of Vienna.
In addition to her academic accomplishments, Cortada has been active in the community. Through a service-learning project at MDC, she helped collect toys, books and school supplies for daycare children in low-income areas.  
Cortada is considering a career in immigration or international law.
"I don't have a clear idea of what I'm going to do, but I know I want to become a lawyer and be involved in immigration," she said. "Coming from Cuba, from what I know, it's part of who I am." 
— Sue Arrowsmith
More Features Articles