---
Features - MDC Grads
Ivy Dreams: Rosette Charles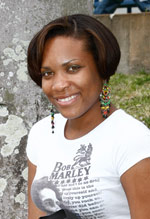 Rosette Charles
Born on the Caribbean island of Dominica, Rosette Charles is only the second of her siblings to attend college. After witnessing her sister's success, she was determined to follow in her footsteps.
"I knew this was the path I would follow," she said. "I knew that I had the potential to succeed just as [my sister] did, and I was really eager to pursue that higher level of education for myself."
That path is now taking her into the Ivy League. Charles will start at Columbia University in the fall. She plans to study biology with aspirations of medical school and a future career in gynecology and obstetrics.
"In my third year of high school, I took my first biology class and loved it," she said. "I was such an interesting and exciting topic that learning it was more of a pleasure for me than a routine duty."
Her mentor is her mother. She also looks up to English and communication professor Jennie Lundahl, who "has been an extremely supportive mentor from day one at MDC and my heartfelt gratitude goes out to her," she said.
Charles also had a supportive network of friends. While at MDC, she was a member of Phi Theta Kappa honors society, the Biology Club and the Tropical Beat Student Association. She also participated in service-learning projects.
"I am most eager to take on the challenge of the rigorous academics of Columbia University. My resilience and motivation to succeed will be put to the test," she said.
However she is quick to add that she is the opposite of the stereotypical "conceited overachiever."
"Laughter is a part of my everyday life," she said.
Return to "MDC grads accepted to top institutions"
— Katherine Joss
More Features - MDC Grads Articles