---
Features - MDC Grads
Macroscopic Biology: Abel Carranza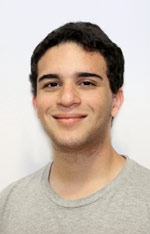 Abel Carranza
Abel Carranza's transition from Westwood Christian School to MDC's Kendall Campus proved not only a learning experience, but a revelatory experience.
"The academics weren't the problem, but finding the passion in my life was," said Carranza, a biology major. "Like many students, I was discovering who I was and what my priorities were."
Today, Carranza, who maintained an impressive 3.95 grade point average, has been accepted to several prestigious institutions, including the University of Wisconsin, Jacobs University in Germany and, his goal school, the Honors College at Liberty University in Virginia.
Carranza, who was born in New Orleans to parents from the Dominican Republic, wants to become a pharmacist. Instead of dispensing medication and advice locally, he wants to travel the globe.
"I want to travel to Third World countries to train others and help give medicine to those who need them," he said.
This desire grew out his MDC experiences, which included an Internship in Erlangen, Germany, and the prestigious honor of being selected to attend the Salzburg Global Seminar.
Carranza said the trip to Austria was unforgettable. While there he learned what it means to be a global citizen and to view world problems from multiple lenses.
"The Honors College of Miami Dade has opened my vision globally," he said.
Return to "MDC grads accepted to top institutions"
— Hector Pino
More Features - MDC Grads Articles