---
Features - MDC Grads
The Virtues of Serendipity: Ana Gamundi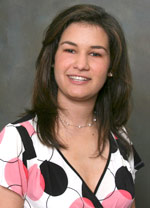 Ana Gamundi
When Ana Gamundi started classes at MDC, she was convinced she wanted to be an attorney. Born on a military base and into military family, Gamundi had always had an interest in the law. But she decided to take an unconventional approach to the field and majored in theater.
"In order to be a courtroom attorney you have to be convincing, you have to be direct, you have to be headstrong and you have to know what you want," she said. "Those were some qualities that I was kind of lacking, and I thought theater would help me."
By the time Gamundi was in her second year at MDC, theater was no longer a means to an end. She'd fallen in love with acting, playwriting, screenwriting and directing.
This realization came to her one day while she rehearsed scenes in her Acting II class. But again, she approached her goal in a nonconventional way: She'd pursue a career on the stage while majoring in political science.
Gamundi graduates from MDC with an associate in political science and will do her first semester in that subject when she transfers. Then, she plans on switching her major to English, creative writing or screenwriting, while focusing on theater. The goal, she said, is to graduate with varied experiences. She has been accepted to Vanderbilt and Tulane universities.
Her time at MDC built within her a confidence and broadened her perspectives, she said.
"With the professors it's been a trickling effect, and each professor has committed himself a little bit to helping me grow without knowing it, but in very different ways," she said.
Return to "MDC grads accepted to top institutions"
More Features - MDC Grads Articles