---
Features - MDC Grads
New Horizons: Gershom Jones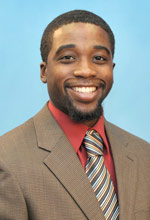 Gershom Jones
Although his father went to college, it wasn't always in Gershom Jones' head to do the same.
"When you live in a certain area where the people around you mostly think of the 'right now' instead of the future, you get into that mind-set too," said Jones. His childhood friends were only interested in sports and money. "I had no idea what I could achieve," he said.
But, when Jones started churning out good grades as a high school student at Miami's Northwest Christian Academy, he grabbed the chance to enter the dual-enrollment program at MDC.
Jones did so well in his college algebra class that his professor suggested he enroll in the Honors College after getting his high school diploma.
As a business major at North Campus, Jones earned a 3.68 grade point average. He plans to attend either Howard University or University of Tampa. Both institutions have accepted him. His goal is to major in finance and work for the government as an economic analyst.
One of the events that most influenced him at MDC was his participation in the National Model United Nations, a collegiate conference.
"It was amazing to see all people from across the globe come together to pass resolutions that would change the world," Jones said.
Jones also served as the face of MDC on promotional advertisements throughout Miami-Dade County.
Old friends from his neighborhood took notice.
"They come up to me and say 'I see you're doing your thing, man. I'm trying to go back to school too," he said. "I encourage all of them."
Return to "MDC grads accepted to top institutions"
— Pilar Ulibarri de Rivera
More Features - MDC Grads Articles