---
Features - MDC Grads
Lending a Helping Hand: Marco Campos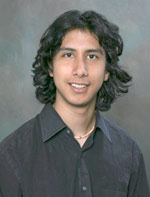 Marco Campos
Marco Campos has already compiled a strong list of credentials.
Campos came to Miami from Peru four years ago and finished high school at Miami Sunset. An Honors College student at Wolfson Campus, vice president of leadership for Phi Theta Kappa honor society and involved in student advocacy, Campos graduates with a 3.94 grade point average.
Campos also helped to found the Moving Forward Project, which provides tutoring for children in foster who are working toward the GED diploma, and last semester, he became core-leader of Students Working for Equal Rights, which is part of the Florida Immigration Coalition. "I am very proud of this organization because we focus on trying to give equal opportunity to all students," he said.
Campos had to work two jobs to support himself during college, and his diligence and enthusiasm paid off. He has been accepted at eight universities, including Virginia Tech University Honors, Ithaca College, University of Indianapolis, Drake University and Wilkes University.
"These two years at MDC have been one of the best times in my life," Campos adds. "I am so thankful I decided to come here. Besides all the friends I have made, people here are always willing to give you a hand."
Campos earned an associate in mechanical engineering. He'll pursue a degree in physics once he transfers into an upper-division degree program. His dream is to specialize in the study of subatomic particles with the goal of discovering new advancements that will benefit society.
Return to "MDC grads accepted to top institutions"
— Barbara Bickel
More Features - MDC Grads Articles