---
Features - MDC Grads
Success in Art: Marvin Aguilar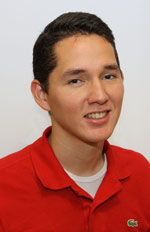 Marvin Aguilar
While pursuing his degree in art history at MDC's Kendall Campus, Marvin J. Aguilar gave himself away to a sea of opportunities.
These included an internship in the U.S. House of Representatives through the Congressional Hispanic Caucus Institute and participation in the prestigious Salzburg Global Seminars in Austria.
Together with an impressive 3.72 grade point average, those experiences translated to academic gold for the native of San Diego, Calif.
Aguilar has been accepted into Lewis & Clark College, Southern Methodist University, New College of Florida, American University and the University of North Carolina-Chapel Hill, among others.
"I realized that my single mother had no outside support for her children and that college may have not been in my future if I didn't I take it upon myself to aid my family as much as possible," he said.
To him, helping his family meant concentrating on academics.
Aguilar intends to pursue a double major in art history and business management at the baccalaureate level before continuing to a master's in fine arts and business administration and a doctorate in art history.
He hopes to secure a position with a major art museum or renowned institution and wants to establish a nonprofit arts awareness organization that serves disadvantaged children.
Return to "MDC grads accepted to top institutions"
— Hector Pino
More Features - MDC Grads Articles