---
Features - MDC Grads
Empowered by Education: Paulina Acosta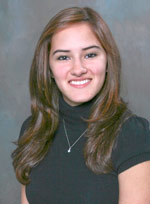 Paulina Acosta
Paulina Acosta wants to preserve the environment. The Miami Springs High graduate worked full time during her first year at Miami Dade College. But that didn't stop her from becoming fully engaged at Wolfson Campus.
With a major in civil engineering and membership in Phi Theta Kappa, Acosta helped initiate a service-learning project that provides tutoring assistance to children in foster care who are working toward the GED diploma.
Acosta also attended the 2009 Salzburg Global Seminar where she learned about global citizenship and sustainability.
"My most treasured academic experience is the Salzburg Global Seminar," she said. "I will never forget the people who I met and the lessons that I learned. It changed my view of the world. I also realized that education empowers us to improve our lives and those of others."
Acosta has been accepted at Carnegie Mellon and the University of Miami, among other institutions, and plans to study civil engineering with a focus on sustainability and energy efficient infrastructure. She then plans to obtain a master's degree.
"With my degree, I hope to work for a firm that brings about new innovations in renewable energy," Acosta said. "I also wish to travel to different countries and learn about new methods for living a sustainable way of life."
Return to "MDC grads accepted to top institutions"
— Barbara Bickel
More Features - MDC Grads Articles