---
Features - MDC Grads
A Pen and Passion: Shane Johnson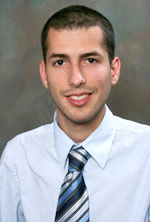 Shane Johnson
Writers are always looking for inspiration. Shane Johnson has found plenty during his two years at Miami Dade College.
Having lived in Miami his whole life, Johnson finally got the chance to travel when he enrolled at MDC. He visited New York City for the Model United Nations and spent two weeks in Austria for a global seminar on sustainability.
"A musician has an instrument, but a writers' instrument is his experience," he said. "You need to experience as much as possible. The traveling put me in positions where I've never been before. It enriched my writing."
Johnson knew he wanted to be a writer ever since he was in the fourth grade. When he graduated from high school he realized he didn't want to leave Miami yet but wanted to go somewhere that offered small class settings.
"Since my major is creative writing, I need to work closely with people who are writers," said Johnson, who maintained a 3.8 grade point average. "The biggest advantage at MDC is the closeness to the teachers and professors."
Johnson has been accepted to Emerson College and University of North Carolina-Chapel Hill and Bard, and is waiting to hear from Brown, Davidson and others.
His professors at Wolfson Campus – published writers like Michael Hettich and Cheryl Clark – offered guidance and encouragement as he developed his talent and refined his craft.
He'd like to pay it forward and pursue a teaching career, he said.
"I like the idea of working with other writers and helping other people in your life," he said. "I'm leaving the College now thinking that I can do anything if I really work hard and have the proper guidance from people in the field."
Return to "MDC grads accepted to top institutions"
— Natalia Maldonado
More Features - MDC Grads Articles