---
Features - MDC Grads
Political Aspirations: Yamily Arab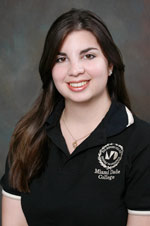 Yamily Arab
Yamily Arab is going to summer school, not because she needs to but because she wants to become a lawyer and eventually a politician.
The new graduate of the MDC Honors College Dual Language Program is one of 60 students accepted into the summer undergraduate experience at Florida State University's College of Law. After the one-month program, she expects to finish the summer with an internship in Washington, D.C. – a logical place considering last year she worked on voter registration campaigns and founded the MDC Democrats club.
Arab graduated with a perfect 4.0 grade point average. So far, she's been accepted by University of North Carolina-Chapel Hill, the University of Florida and Florida International University, which awarded her the full-ride Eduardo Padrón Scholarship.
In 1997, Arab's family moved to Miami from Nova Scotia, Canada, where they had been since leaving Havana in 1993.
"The Honors College has been the best two years, with one-of-a-kind experiences," she says. These included a trip to President Obama's inauguration as well as the daily interaction with her "amazing" professors. "Dr. Lenaghan is an inspiration to me. He cemented my desire to major in international relations," she said.
Dr. Michael Lenaghan, a professor of social science, presented Arab with the social sciences award at InterAmerican Campus Honors Awards Convocation.
Return to "MDC grads accepted to top institutions"
— James Harper
More Features - MDC Grads Articles