---
Academics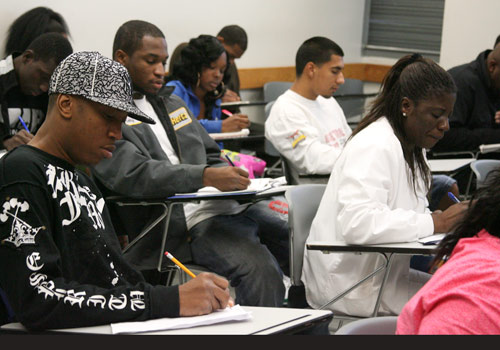 Meek Center celebrates 20 years
The neighborhood that surrounds MDC's Carrie P. Meek Entrepreneurial Education Center has had its tough times. But there has always been unflinching promise here.
In the two decades since the Meek Center opened its doors as an outreach center of North Campus, that promise has been amplified exponentially.
Today, the center serves as an educational focal point to a diverse community of working-class families with long South Florida ties as well as newer arrivals from the Caribbean, most notably Haitian immigrants.
"Our goal is to help people recognize and capitalize on opportunities in the marketplace," said H. Leigh Toney, the Meek Center's executive director. "Entrepreneurs come from a variety of backgrounds, from philosophers and engineers to business students and artists."
Located in the heart of Liberty City's business district, the Meek Center provides training and capacity building for local entrepreneurs with an array of credit and noncredit educational programs.
Its entrepreneurship offerings include a specialized College Credit Certificate in entrepreneurship, which can be used toward the College's Associate in Science in marketing management. The curriculum includes courses in small-business management, e-commerce, the fundamentals of selling and introduction to entrepreneurship.
The center's Institute for Youth Entrepreneurship offers high school students the opportunity to learn about and create their own business ventures. This program has produced two National Foundation for Teaching Entrepreneurship National Top Youth Entrepreneurship Winners and a Leavey Award for Teaching Entrepreneurship.
The Center also offers the innovative FastTrac program, a business development program that helps entrepreneurs hone the skills needed to create, manage and grow a successful business. This year, the Center will unveil FastTrac Launchpad, a new program to offer fast-track entrepreneurship training to persons displaced by reductions in today's job market.
The Meek Center's Nonprofit Leadership Program offers specialized courses to serve the nonprofit sector for mid-to-senior level nonprofit executives, board members, volunteers and anyone interested in growth and expansion strategies for nonprofit organizations as well as  students interested in nonprofit careers.
"While entrepreneurship is our unique niche," said Michael Mason, director of student services, "Most of our students are studying in a variety of fields and our goal is to help them realize their dreams."
— Barbara Bickel
More Academics Articles