---
Academics
Community-centered health education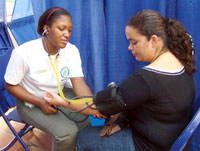 Student checks a patient's blood pressure
Community health is built into the curriculum in the schools of Nursing and Health Sciences at Miami Dade College.
All students pursuing associate and bachelor's degrees in nursing at MDC must complete courses in community health. Students in the associate degree program take Community Health Nursing Lab, in which they apply their knowledge of community resources to the care of childbearing and child-rearing families. The lab puts a special emphasis on the understanding of cultural influences on health practices and beliefs within the family.
Upper-division nursing students in the Bachelor of Science in Nursing program take Advanced Community Health Nursing and the Community Health Nursing Practicum. The practicum focuses on the clinical application of community health nursing theory. Students use the nursing process to deliver health care in the community.
Students pursuing the associate degree in the Physician Assistant program must complete clerkships in a number of specialty areas, including geriatrics, family medicine, internal medicine and obstetrics/gynecology to name a few.
Additionally, Medical Center Campus hosts an annual community health fair that provides thousands of attendees with access to glaucoma, blood pressure, glucose and cholesterol tests, along with chair massages, dental and vision screenings, and information on nutrition, heart disease and cancer prevention.
See related story: Clinic provides primary care for Miami's most vulnerable
— GPL
More Academics Articles