---
Alumni News
Curtis Sommerhoff: A career dedicated to country and community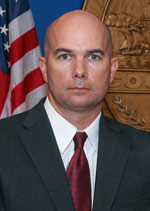 Discipline. This is probably the best word to describe Curtis S. Sommerhoff, the MDC alumnus who was recently tapped to serve as the director of Miami-Dade County's department of emergency management.
Words like focus, dedication and public servant are also appropriate. But discipline describes the root of the man, what keeps him grounded, what motivated him to spend a lifetime giving back to his community and his country.
"My whole life, I wanted to go into the Marine Corps," Sommerhoff said. "My father was a Marine so that kind of inspired me."
While a student at Christopher Columbus High in Miami, Sommerhoff decided on a career path that would have him follow in his father's footsteps. He'd enlist in the Marines, attend Miami Dade College and continue to serve the entirety of his career in the military.
Sommerhoff fulfilled part of that ambition. He enlisted soon after earning his high school diploma. But by then, he had met the woman who would be his wife. So instead of serving an entire career in the Marine Corps, he joined the Marine Forces Reserve. This option would, for the most part, keep him local and allow him to serve at least one weekend per month and two weeks per year. He found a day job as a communications center specialist in the Miami-Dade water and sewer department. 
From 1988 to 1994, Sommerhoff was a member of TOW Company, 8th Tank Battalion. He saw combat in 1991 during Operation Desert Storm and served as a squad leader.
Six years of active reserve duty gave Sommerhoff a personal sense of resolve. It taught him to remain calm under pressure and, to use the adage, not sweat the small stuff. "Once you've served in a combat situation," he said, "the day-to-day challenges seem like less of a big deal."
Once he completed his years of active reserve duty, Sommerhoff began steadily moving up the ranks as a civil servant. His first major promotion (from specialist to supervisor) came after he completed his service in the reserves. Then seven years later, he made the switch from public works to emergency management – this after he was awarded the Miami-Dade Employee Suggestion Program Manager's Grand Award for authoring a plan to improve customer service and emergency communication.
Sommerhoff left the county for a year to manage emergency preparedness for the Seminole Tribe of Florida, but returned. Ultimately, he has served in every level of county emergency management. Late last year, he was appointed assistant director of the department of emergency management. He was bumped up the chain to interim director four months later. Miami-Dade Mayor Carlos Alvarez, also an MDC alumnus, made that appointment permanent in late spring.
"You have to make the best of the opportunities you have," Sommerhoff said. "Any good manager in emergency preparedness uses the resources around him to achieve his goals. You don't necessarily need to have your entire career planned out. You have to take advantage of the opportunities as they come, and that's how you succeed."
— GPL
More Alumni News Articles