---
Features
'Chronicle' names MDC among great employers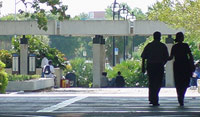 Campus exterior
Miami Dade College was one of a select number of higher education institutions recognized in The Chronicle of Higher Education's second annual Great Colleges to Work For survey.
More than 300 four-year and two-year colleges signed up for the program. The results, which were published in the Chronicle, were based on responses from nearly 41,000 administrators, faculty members and staff at the institutions.
MDC was named to 12 of the 15 recognition categories for community colleges and was one of just nine community colleges surveyed to make the Chronicle's Honor Roll, which highlights the top colleges based on the number of times they were recognized in the individual categories. Among four-year institutions, Duke, Cornell and Notre Dame were named to the Honor Roll.
Colleges are ranked after a two-part assessment process. First, a survey was administered to a randomly selected group of 400 to 600 administrators, faculty members and professional support staff. Then the Chronicle conducted an institutional audit that collected demographics and workplace policies and practices. The employee feedback was the primary factor in deciding whether an institution received recognition.
When announcing the results of the survey to the College community, MDC President Eduardo J. Padrón said: "I am very proud of this honor, especially during a time of many challenges in higher education. This is a tribute to you, MDC's faculty and staff, who make the College such a great place to work."
MDC was recognized in the Work Environment category for job satisfaction, faculty-administration relations, collaborative governance, facilities and security, and supervisor-department chair relations. In the Institutional Policies category, MDC was recognized for professional/career development, work-life balance, confidence in senior leadership, internal communications, and connection to institution and pride. In the category of Pay and Benefits, MDC was recognized for pay and benefits, deferred compensation options, and vacation and paid time off.

— Gariot P. Louima
More Features Articles