---
Features
Delegates tour Environmental Center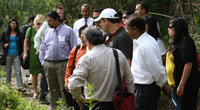 Environmental Center at Kendall Campus
Demonstrating the breadth of MDC's reach and influence, a delegation of government officials from a dozen Latin American countries recently requested a tour of the Environmental Center at Kendall Campus because they were impressed with the summer environmental programs for children offered through the School of Community Education.
The visitors were participants in the U.S. State Department's International Visitor Leadership Program, which annually brings to the United States foreign nationals from all over the world to meet and confer with their professional counterparts and to experience America firsthand.
The delegation to South Florida was particularly interested in how the College uses the Environmental Center as an educational tool to reach children in the community. David Lotker, a program manager in the School of Community Education, gave a tour of the preserve while members of the delegation discussed the environmental challenges they face in their home countries.

— Gariot P. Louima
More Features Articles