---
Academics
Confucius Institute comes to MDC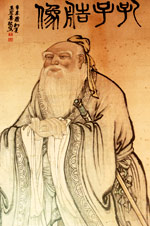 Confucius
A regional center for the study of Chinese culture and language will open at Miami Dade College in the coming months.
College President Dr. Eduardo J. Padrón signed an agreement with the Confucius Institute Headquarters of China to host a Miami Confucius Institute, operated jointly with China's Xuzhou Normal University. The institute is a collaboration with the Chinese Ministry of Education.
"The Confucius Institute will provide MDC and the larger community with an invaluable opportunity to learn the language and culture of one of the most dynamic nations of the 21st century as well as one of the oldest civilizations in the world," said Wei "Rosey" Yang-Krivak, MDC's director of international partnerships.
The institute will offer advanced Chinese courses, including certification for language instructors, and feature business seminars and exchanges, as well as a variety courses in culture, history, arts and crafts, and kung fu.
MDC's institute will function as an umbrella of a known brand under which all things Chinese may be sought for learning and understanding. "It's a good marriage. No one is as influential and deeply rooted to the South Florida community as Miami Dade College," Yang-Krivak said.
— Hector Pino
More Academics Articles