---
Academics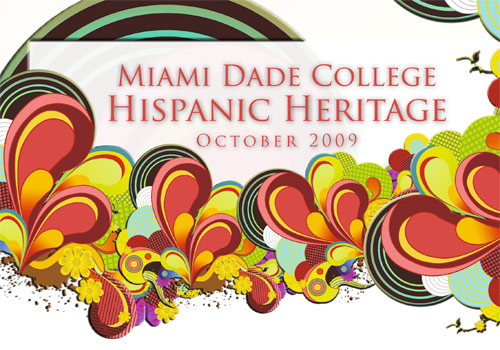 A Cultural Education
This year's Hispanic Heritage Month commemoration featured a roster of diverse programs designed to celebrate the language and culture of Latin America. More important among faculty, however, was to infuse those events with academic concerns. So, in addition to sampling foods from Central America, South America and the Caribbean or learning salsa, students got lessons in history, mathematics, politics and sociology.
At Kendall Campus, for instance, students got a sobering lesson in history and politics with the screening of Shoot Down. The award-winning documentary explores the events of Feb. 24, 1996, when the Cuban military shot down two unarmed American planes over international waters, killing four civilians, including Armando Alejandre Jr., professor Ana Ciereszko's brother. The film was directed by Cristina Khuly, Alejandre's niece.
At the Wolfson Campus, faculty in the mathematics department presented "The Great Maya: Land of Astronomers and Mathematics," a lecture and discussion on the Mayan calendar, astronomy, ancient ruins, codices and their cultural impact.
InterAmerican Campus was the setting for Ocho de la Ocho, an art exhibition that explores the cultural and political significance of Miami's Calle Ocho as represented in the works of eight Miami-area contemporary artists.
Dr. Theodore Syder, a social sciences professor at North Campus, led a campus discussion on the influence of Hispanics and African-Americans in U.S. politics, while West Campus' Jesus Cabrera discussed the origins of the Castillian or Spanish language.
— Hector Pino
More Academics Articles