---
Academics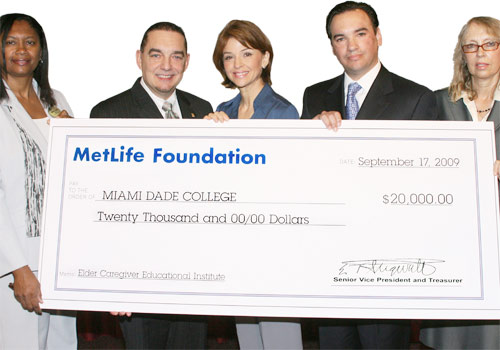 New program addresses national need for qualified caregivers
Miami Dade College was the only Florida institution – and one of just 15 nationwide – to receive a grant from the International Longevity Center to create caregiver training programs that address a growing demand for quality home care professionals.
The grant, provided with support from the MetLife Foundation, establishes the Elder Caregiver Educational Institute at MDC's North Campus, which will begin offering an extensive, multi-language curriculum through the School of Education in the spring.
"This grant will continue the College's commitment of addressing the needs of seniors in Miami-Dade County," said Dr. José A. Vicente, president of MDC's North and West campuses.
Carlos F. Suárez, a managing partner for New England Financial in Miami, presented a check for $20,000 on behalf of MetLife Foundation at a recent meeting of MDC's District Board of Trustees.
The grant was awarded through the 2009 Community College Training Initiative as part of the Caregiving Project for Older Americans, a partnership of the International Longevity Center and the Schmieding Center for Senior Health and Education. Since 2007, the initiative has awarded 39 grants.
"This initiative has gained tremendous momentum in recent years and this year's applications were particularly strong," said Dr. Robert N. Butler, president and CEO of the International Longevity Center. "More than ever, people who need quality home care are having difficulty finding it, and families who often provide care are facing greater challenges balancing work and home responsibilities."
The Elder Caregiver Educational Institute at MDC will offer courses in English, Spanish and Haitian Creole. The program of study includes 75 contact hours over an 18-week period.
The grant money will sponsor 30 scholarships and assist in purchasing equipment, such as stethoscopes and blood pressure monitors. In addition, the Elder Caregiver Educational Institute will assist students with job placement and provide family workshops for individuals who are caring for an elder relative.
— Sue Arrowsmith
More Academics Articles