---
Alumni News
Alumnus takes Latin music to the masses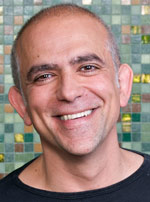 José Tillán
Alumnus José Tillán is executive vice president/general manager of MTV Tr3s.
In this position, he works closely with the MTV Tr3s team to continue building premiere destinations for Latino audiences living in the United States.
Tillán oversees all aspects of the business, including the overall content strategy of the channel and the development and creation of client-specific programming.  
He credits his alma mater for his success.
"MDC provided a great platform for my inquisitive mind," he said. "I was able to experiment with different career paths that helped in guiding me toward my current position."
Prior to joining MTV Tr3s, Tillán was senior vice president of content and creative for MTV/VH1 Latin America. In this role, he was instrumental in the regionalization of MTV Networks (MTVN) Latin America, which included establishing creative and production centers in Buenos Aires to service both Latin America and other MTVN channels around the world. He has been pivotal in shaping MTVN Latin America's content and music strategies as well as creating landmark franchises for MTVN Latin America.
Tillán also spearheaded the networks' multi-award-winning Unplugged series with artists such as Shakira, Maná, Alejandro Sanz, La Ley, Diego Torres, Ricky Martin and Julieta Venegas, which generated worldwide sales of more than 10 million units and won various Grammys and Latin Grammys.
Since the inauguration of Los Premios MTV in 2002, Tillán has delivered stellar musical performances and appearances with such artists as Juanes, Paulina Rubio, Daddy Yankee, Carlos Santana, Evanesence, Metallica, The Beastie Boys, Nelly Furtado, Gustavo Cerati, Katie Perry, Calle 13 and The Black Eyed Peas.
In addition to his role at MTV Tr3s, Tillán remains involved with MTV Networks Latin America as head of content and creative for MTV/VH1 Latin America. Before joining MTV Latin America, Tillán was president of MATT Entertainment, a boutique management company. He holds a degree in international marketing and business administration from Florida International University and is a professional musician, writer and producer.  
Tillán has also served as the president of the Florida Chapter of the National Academy of Recording Arts and Sciences and is currently a national trustee for the same organization.  
In 2007, he was inducted into the MDC Alumni Hall of Fame and received a Latin Grammy as video producer of Ricky Martin: MTV Unplugged. In 2008, he received his second Latin Grammy for the production of Julieta Venegas: MTV Unplugged.
More Alumni News Articles