---
Cultural Spotlight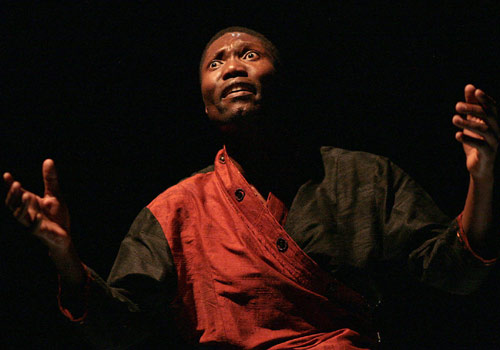 Introspection is at the heart of 'Beautiful Me'
It's a quest as old as man – one's attempt to define and redefine oneself. In Vuyani Dance Theater's Beautiful Me, presented by Cultura del Lobo on Nov. 20 and 21, South African dancer Gregory Maqoma attempts this task within the context of history, humanity and nature.
At times humorous and light, at times full of depth and emotion, Beautiful Me is a living self-portrait and a provocative exploration of kinetic African identity.
Maqoma dances alone and is accompanied by musicians on violin, cello, sitar and percussion. His movement layers the distinct styles of the three master choreographers and dance styles that shape his artistry – Akram Khan's contemporary Kathak, Faustin Linyekula's visual dance-theater, and Vincent Mantsoe's Afrofusion – while speaking honestly about the process of finding one's own authentic voice.
"It all makes for a really intriguing performance," said Vivian Donnell Rodríguez, executive director of cultural affairs. "The lighting is simple, the set design is minimalist. Maqoma explores his own personal identity through dance and through the music of Africa, and the musicians that are on stage accompanying him make it really interactive and multidisciplinary."
This is the second performance in the 2009-2010 season of Cultura del Lobo, which brings artists from all cultures and media to the MDC and Miami community. The lineup includes performers from Central American, South America and Africa.
— Natalia Maldonado
More Cultural Spotlight Articles