---
Cultural Spotlight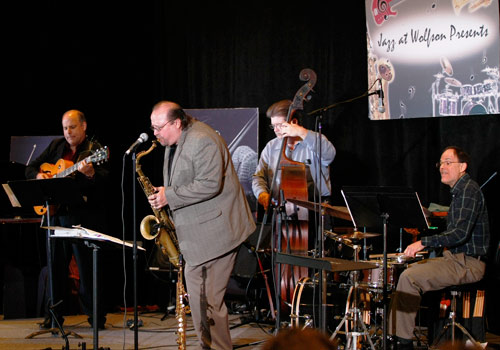 Jazz series draws bigger crowds
If the September kick-off concert was any sign of things to come, the 12th annual Jazz at Wolfson Presents concert series is going to be the biggest yet.
With more than 450 people in attendance, the MDC Jazz Faculty Quintet, which features saxophonist Ed Calle, guitarist Mike Di Liddo, pianist Jim Gasior, bassist Rick Doll and drummer Rodolfo Zuñiga, played to standing-room-only crowd.
As the only continuously running jazz series in Miami-Dade County, Jazz at Wolfson Presents is a yearlong presentation that is free and open to the public. This year, founder Dr. Mike Di Liddo, jazz studies professor at Wolfson Campus, set out to expand the series' reach and attract audiences from all across the county.
"We've gotten comments that it's the best-kept secret in Miami," Di Liddo said. "We don't want it to be a secret. We want everyone to know about it."
Last month to coincide with Hispanic Heritage Month, Cuba-born saxophonist Carlos Averhoff played his signature Afro-Cuban jazz sounds. Trumpet player Terell Stafford, who has recorded five albums, including the critically acclaimed Taking Chances, will perform in February during Black History Month. And in March, which is Women's History Month, Los Angeles jazz vocalist Kate Reid, who has performed alongside Mark Murphy, Liza Minelli, Tito Puente and Jon Secada, will take the stage.
"What's great about it is that the artists are encouraged to play the music the way they want to play it," Di Liddo said. "It's not to please a club owner. It's not to please a dance audience, so it's music for music's sake."
While audiences come away with a deeper appreciation for jazz, students get an extra perk: After each concert, the visiting musician conducts a workshop for Wolfson Campus jazz students. For a complete view of the program click on the link.
http://images.mdc.edu/publications/Jazz_E_Card/HOME.html
— Natalia Maldonado
More Cultural Spotlight Articles