---
Cultural Spotlight
Films open a personal window to Florida history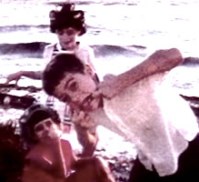 Key Biscayne, Late 1960s
Since the 1980s, the Lynn and Louis Wolfson II Florida Moving Image Archives, now part of MDC, has been collecting and preserving old home movies. The Archives now owns one of the nation's largest collections of these types of amateur films. Those films were put on grand display at Tower Theater in Little Havana recently when the College participated in the International Home Movie Day.
Initially founded by a small group of film archivists, Home Movie Day was first celebrated globally in 2003. In just a few years it has grown to encompass events in the United Kingdom, Australia, Brazil, Italy, Japan, Canada, Singapore and the United States.
"The great thing about participating in this event is that it gives us an opportunity to recognize that home movies are a unique cultural artifact," said René Ramos, archives director at MDC. "With these films we get to look into another time and see what kind of clothes people wore, the roles people played in their families and what the cities looked like."
Barron Sherer, curator and preservationist for MDC's Lynn and Louis Wolfson II Florida Moving Image Archives, said home movies have increasingly become valued as primary source material for historians.
"These films, much like moving image diaries of ordinary people, provide a rich view of family and society," he said.
Those who attended the event at Tower Theater were treated with intimate histories of South Florida.
My Father's Camera, a Peabody Award-winning documentary from filmmaker Karen Shopsowitz, illustrates how personal footage – in this case, those belonging to her father, amateur filmmaker Israel Shopsowitz – reveal the world as seen through one man's eyes.
Ramos said holding the Home Movie Day screening at the Tower Theater gave the Archives a chance to reach out to the Hispanic community, which only represents a small percentage of the collection. During the event, people were able to donate their movies to the Archives. In exchange, the Archives converted those reels into digital media.
"These films let us peek into someone else's life: their vacations, birthday parties and anything that's important to them," Ramos said.
"Today you can share amateur films almost instantaneously. But before, it was more closed off. This event is a way of bringing that world into our own," he added.
— Pilar Ulibarri de Rivera
More Cultural Spotlight Articles