---
Features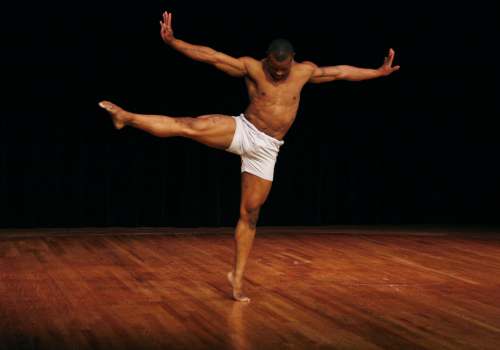 No question: He can dance
Fresh off his run on the hit Fox series So You Think You Can Dance, former MDC dance student Brandon Bryant returned to Kendall Campus for an impromptu celebration that drew a standing-room crowd to McCarthy Auditorium.
Bryant was a favorite of the judges throughout the competition, performing routines that brought tears and praise from panelists Mary Murphy and Mia Michaels, an alumna of New World School of the Arts at MDC. He placed second behind Miami resident Jeanine Mason in the show's fifth season finale.
During Bryant's homecoming performance, Rodester Brandon, chair of music, theater and dance, marveled at his artistry. "He is an artist of the highest caliber," Brandon said.
Bryant began dancing ballet at 10 and has performed professionally ever since. His resume includes a stint with MDC's own Jubilation Dance Ensemble.
He first auditioned for So You Think You Can Dance in 2008, but was eliminated before making it to the top 20. Undeterred, he continued dancing and soon landed a spot with Odyssey Dance Theatre in Salt Lake City, Utah.
When auditions for So You Think You Can Dance were announced earlier this year, Bryant tried again. This time he landed a spot to compete against 19 other dancers – including New World School of the Arts graduate Vitolio Jeune – in the nationally televised, Emmy-nominated competition.
Bryant said his time at MDC was the perfect foundation.
"Being a part of the dance program here really helped me," he said.
Of his former dance instructor, Michelle Grant-Murray, he said: "She is the most amazing technician because of the different styles of dance she would bring in. It really opened my eyes to the world with international and spiritual dance styles."
— Gariot P. Louima
More Features Articles