---
Features
President signs land conveyance act into law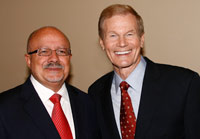 Dr. Eduardo J. Padrón and
Sen. Bill Nelson
U.S. Rep. Ileana Ros-Lehtinen (center) with MDC art students
President Barack Obama recently signed into law a bill clearing the way for downtown land owned by the Federal Bureau of Prisons to be transferred to Miami Dade College's Wolfson Campus.
The bill was approved by the U.S. House of Representatives in March; its Senate companion bill won approval in July. MDC alumna and U.S. Rep. Ileana Ros-Lehtinen and Sen. Bill Nelson introduced the legislation.
The 47,500-square-foot parcel is adjacent to New World School of the Arts between North Miami and First avenues. No money will change hands, and no date for construction to begin has been set.
Dr. Eduardo J. Padrón, MDC's president, said the lot will be the future home of a new MDC classroom building.
"In collaboration with the Bureau of Prisons, we are taking steps to increase opportunities for Miami Dade College students. In the future, we will be able to expand with additional classrooms and space in order to advance our critical mission," Padrón said.
More Features Articles