---
Features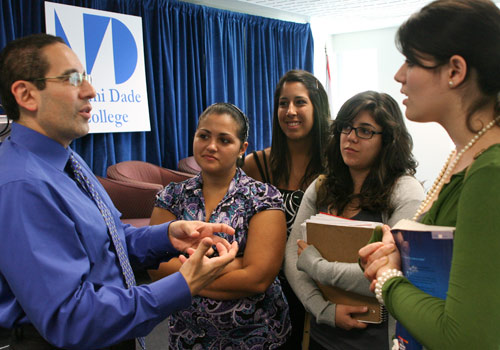 Leaders discuss Hispanics and education
More Hispanic students earn college degrees from Miami Dade College than at any other institution in the country. So it made sense, recently, for the White House to use MDC as the setting for two conversations on improving educational opportunities for Hispanic students.
Juan Sepúlveda, who was appointed by U.S. Secretary of Education Arne Duncan in May as director of the White House Initiative on Educational Excellence for Hispanic Americans, attended the "invitation only" gathering of key local, state and national stakeholders.
Participants in the two-part conversation discussed how to improve current graduation rates among Hispanics and what the White House should be doing to support those efforts.
Information gleaned from the sessions will serve as the foundation for an executive order to be signed by President Barack Obama that will govern the White House Initiative.
MDC has always worked closely with the White House and the Department of Education to expand opportunities for students. Obama visited the college twice prior to taking office. Duncan and the vice president's wife, Dr. Jill Biden, met with MDC leaders and students on the secretary's first college or university visit after taking office. This summer, the White House asked Miami Dade College President Dr. Eduardo J. Padrón to represent the U.S. at a UNESCO conference on higher education.
— Gariot P. Louima
More Features Articles