---
Academics
Nursing professor lauded for helping those in need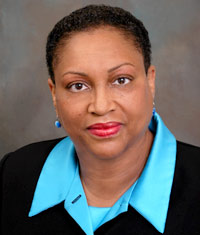 Annette Gibson
In the struggle to receive adequate health care, often the disadvantaged suffer the most. Championing their cause is MDC nursing professor Annette Gibson.
For her decades of devotion to health care issues, Gibson was one of several honorees for the Greater Miami Chamber of Commerce's 13th annual Health Care Heroes award.
"Ms. Gibson's devotion to improving the health of our community is truly inspiring," wrote Shadana James, the MDC Medical Center Campus' service-learning coordinator, in Gibson's nomination application.
A staunch supporter of accessible health care for the homeless, Gibson forged a partnership between MDC's School of Nursing, the -Miami Rescue Mission and the Miami-Dade Area Health Education Center in 2000. They started a student-operated health-screening program for the homeless.
An MDC instructor for more than 30 years, Gibson has worked to improve health services for the community's most disadvantaged residents. She has spearheaded numerous partnerships to extend classroom learning into the field and has established hands-on opportunities for student nurses.
 "She has made a remarkable impact on South Florida's healthcare community, added James. "She is more than just a healthcare hero. She is simply a hero."
— WV
More Academics Articles