---
Academics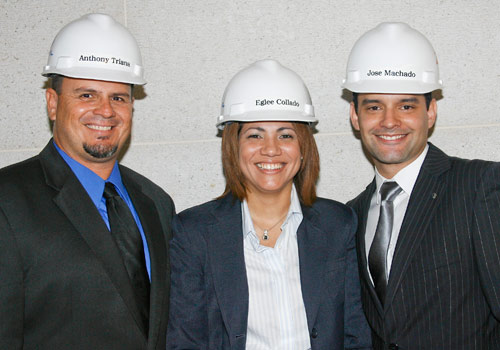 MDC/FPL partnership fills need for energy workers
A partnership between Miami Dade College and Florida Power and Light is creating bright futures for graduates of MDC's Clean Energy Institute.
Students graduating from the Electrical Power Technology program, which was developed by MDC and FPL, are hired by the energy company to work at the Turkey Point Nuclear Power Plant. Starting annual salaries exceed $45,000.
"Since its inception in 2008, the program has served 116 students," said Dr. Richard White, MDC's director of computer and engineering technology. 
This year, there are 22 graduates, and 19 of them received letters of employment from FPL during an Aug. 11 hiring ceremony. The other three are already FPL employees who earned promotions after completing the program.  
Students completing the program earn an Associate in Science degree, with specializations in one of three areas: instrumentation and control, electrical maintenance and mechanical maintenance.
Classes are held on Monday through Thursday mornings at MDC's Homestead Campus, with the internships at FPL's power plant. Students can complete the program in less than two years.
"The nation is experiencing a critical shortage of energy and nuclear-skilled workers," said James Auld, college and community coordinator for FPL. "This partnership addresses that shortage by tapping into a natural resource in our area – students eager to learn important and valuable skills. We all benefit from this partnership."
— WV
More Academics Articles