---
Cultural Spotlight
Steve Martin play to open "Wild and Crazy" theater season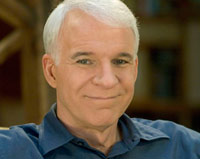 Steve Martin
Kendall Campus' Studio Theatre
The Studio Theatre at the Kendall Campus is gearing up for another exciting year of productions under the guidance of Theater Department Director Deborah Mello. The season opens with Picasso at the Lapin Agile, a play pitting art against science in a fictitious meeting of Pablo Picasso and Albert Einstein at the legendary Montmartre bar in Paris in 1904. First premiering in 1993 at Chicago's Steppenwolf Theatre Co., Picasso at the Lapin Agile is the first full-length play written by comedian Steve Martin, an all-around Renaissance man of stage and screen who has had a stellar career as an actor, comedian, writer, playwright, composer, musician and producer. The upcoming MDC production will be directed by Mello and run from Sept. 30 through Oct. 10.
Figuring prominently among December's good tidings will be Tom Stoppard's absurdist satire The Real Inspector Hound, in which he parodies parlor mysteries in the style of Agatha Christie. February will beckon us to fall in love once again with Charlie Brown and the Peanuts gang in Bert V. Royal's Dog Sees God: Confessions of a Teenage Blockhead. This parody re-imagines the beloved comic-strip characters' lives as teenagers – sans Snoopy. April will close the season by bringing to life the Pulitzer Prize-winning drama The Skin of Our Teeth, reminding everyone why this purposely anachronistic classic written in 1942 by Thornton Wilder remains perennially -relevant.
North Campus' Play Pen
The North Campus offers its theater season in two venues. The Lehman Theatre opens in October with their annual Gala, featuring performances by the Pen Players, North Star Singers and the Falcon Jazz Band. Also in October, laughter will come in the form of Paul Rudnick's I Hate Hamlet. The mood then will turn more somber in February with Jean-Paul Sartre's existential play No Exit. Closing the season on a high note, Stephen Sondheim's Company will fill the stage with music.
Not to be outdone, the Pen Players' Studio Theatre will showcase UBER Alle in October and November, followed by their March production of the brilliant Jean Cocteau play The Human Voice.
— HP
More Cultural Spotlight Articles