---
Features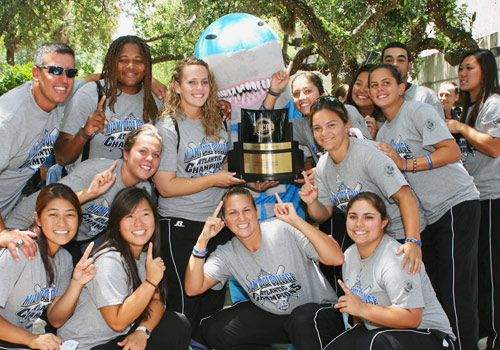 More dreams come true for Lady Sharks
Two days after our nation celebrated Independence Day, Erika Bennett experienced a momentous occasion of her own.
The star pitcher of Miami Dade College's national champion softball team, Bennett learned that day that she will be heading to Huntington, W. Va., where she will attend Marshall University.
Bennett is one of several MDC softball players from the championship team who has earned a scholarship to a four-year university. In fact, she will be joined at Marshall by second baseman Amanda Lara.
The Marshall Herd, which finished last season 24-30-1, will likely get Bennett and Lara in the lineup immediately. That is especially true for Bennett, because the Herd   graduated their top pitcher, Katie Murphree, and none of Marshall's returners had an ERA under 4.50.
But Bennett and Lara are not the only ex-Sharks duo teaming up on the next level. Shortstop Simone Suetsugu and catcher Vivian Morimoto are headed to the University of Tennessee at Chattanooga.
Three outfielders also signed: Rebecca Hall (Fresno State), Nicole Rodríguez (North Carolina-Greensboro) and Tiffany Mullins-Díaz (Ave Maria University).
Suetsugu and Morimoto are both from Brazil, so they say staying together for the next step along the path of their college journey made sense.  
Suetsugu, however, will have to redshirt this season before joining Morimoto in 2011-2012. While she speaks Japanese and Portuguese, she is working to  improve her English. Still, she is not bothered by having to wait a year.
"When I got here from Brazil, I didn't think everything I wanted was possible," said Suetsugu, reflecting upon her first impressions of life in the U.S. "But, with Miami Dade College's help, it's been like a dream come true."
— WV
More Features Articles