---
Features
Confucius Institute branches out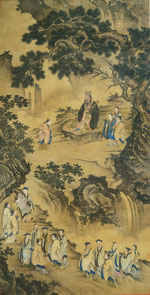 Ancient Ming dysnasty painting of Confucius with his pupils.
Miami Dade College's Confucius Institute is expanding its cultural and educational endeavors, and leading the way will be its new director, Dr. Xuejun (Jim) Yu. The first of its kind in South Florida, the Institute, which was inaugurated in April, is a nonprofit learning hub working in partnership with China's Ministry of Education.
New courses focus on language, culture
MDC's Confucius Institute will offer classes in Chinese culture and the Mandarin language. It also will offer seminars in conducting business in China, along with courses in the Chinese culinary arts, traditional medicine, history, calligraphy and art.
Dr. Yu brings to the Confucius Institute extensive academic and professional experience in teaching and promoting Chinese culture and language. Having taught at Jiangxi University in China, his areas of expertise include Chinese media, culture and society. 
MDC enhances international partnerships
MDC's new Confucius Institute further enhances the college's existing partnerships with Chinese government agencies, learning institutions and organizations. In recent years, the college has trained Chinese air traffic controllers, hospitality and human resources students and executives. MDC also recently hosted Fulbright Scholar Huang Lei, who taught economics at MDC's Kendall Campus, and Mandarin professor, Li Yao, a Fulbright foreign language teaching assistant.
— BB
More Features Articles