---
Features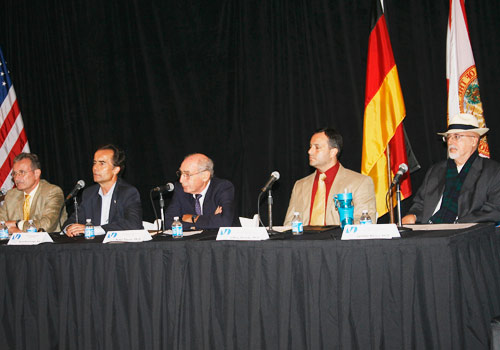 Examining the politics of genocide
At the panel discussion "Genocide: In the Shadow of the Holocaust," held recently at MDC's Freedom Tower, experts examined the academics and politics of genocide and how the Holocaust serves as a platform for developing academic programs to study this worldwide problem. The seminar was part of MDC's Art Gallery System's series of lectures  on the history of torture and its effect on modern culture and coincided with the exhibition "Instruments of Torture."
"The 20th century has been called the 'Century of Genocide.' Awareness is the first step toward prevention, and our goal is promoting awareness and social responsibility through curriculum and events such as this one to make the 21st century the century we end genocide," said social sciences professor Magdalena Lamarre, the panel's moderator.
Panelists included Dr. German Muñoz, social sciences department chair;  Dr. Jeff Demsky, social sciences professor; Dr. Peter Tarjan, Hungarian Holocaust survivor and professor emeritus at the University of Miami; Klaus Ranner, Consul General of Germany; and Bernd Wollschlaeger, M.D., who  has written about his experience growing up in Germany as the son of a highly-decorated World War II tank commander and Nazi officer in the book A German Life: Against All Odds Change is Possible.
The program began by viewing the documentary The Last Survivor, produced by Michael Pertnoy of Righteouspictures.
— BB
More Features Articles