---
Features
MDC paves way to help students, faculty thrive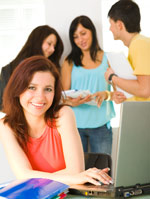 Students thrive in challenging classes.
Continually finding new ways to make education possible for everyone, Miami Dade College has recently received several grants that will directly benefit the College's students.
The biggest grant, $1.2 million, went to MDC and SingleStop, a nonprofit organization dedicated to fighting poverty and helping community colleges increase graduation rates while enabling individuals to achieve a new level of social mobility.
The Kresge Foundation offered the grant to develop outreach centers at three MDC campuses during the next two years. Eligible students and their families will be offered a host of free benefits, including legal services, financial counseling and tax preparation.   
Breaking the cycle of poverty
MDC President Eduardo J. Padrón said the partnership with SingleStop will help students surmount financial barriers and break the cycle
of poverty.
"In the short term, we will augment financial aid by providing students and their families with immediate access to crucial benefits and services," he said. "In the long run, because this influx of resources helps students stay in school and graduate, this initiative will lead to higher increased lifetime earnings and greater economic mobility."
Another grant designed to help students excel is the STEM Innovations Generating Maximum Achievements (SIGMA) grant awarded to MDC by the National Science Foundation.
Setting the stage for scientific progress
The four-year grant, amounting to $600,000, is designed for students majoring in science, technology, engineering or math (STEM) who are eligible for financial aid, enrolled full time and have at least a 3.0 GPA.
MDC will use the funds to provide such enrichment activities as mentoring, career planning, student-networking, science forums, internships and service learning opportunities.
The third grant, for $559,973 over a period of three years, comes from the Institute of Museum and Library Services.
MDC's North Campus will use the funds to support Project PIPELINE —  Project to Inspire and Promote the Education of Librarians as a National Example.
"Miami Dade College is committed to the enhancement of learning, cultural and civic programs fostering community involvement and supporting professional development through local and national partnerships," said José A. Vicente, MDC North Campus president.
Strengthening the library system 
The PIPELINE project will help support existing library staff at MDC, Miami-Dade Public Library System, Miami-Dade County Public Schools and Florida International University.  
The grant will support 30 library staffers at the partnering institutions by providing tuition, academic advisement, tutoring, test-preparation assistance, mentoring, workshops and certification support.
"Everybody at the library is excited about this grant and the opportunity to go back to school and finish what they started or to start work on new degrees," said Valda Adeyiga, the assistant library director at Miami Dade College.
— WV
More Features Articles