---
Features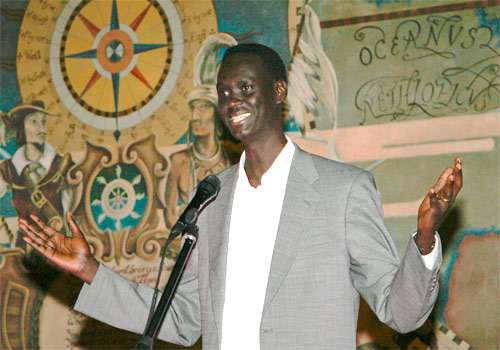 Former child slave shares story
Francis Bok, a Sudanese refugee and a survivor of child slavery, shared his compelling story recently at a concert held at Miami Dade College's Freedom Tower.
Bok's plight is sadly all too prevalent around the globe today. There are approximately 27 million slaves worldwide, and the recent concert helped raise awareness about this shameful tragedy. Nearly half of the victims are under age 18.
Joining MDC President Dr. Eduardo J. Padrón in co-hosting the event were Michele Gillen, the chief investigative reporter for CBS-4 TV News, and Arthur J. Furia, a shareholder at Gunster, a law firm, and an MDC Foundation board member.
Gillen, who broke the story of modern-day slavery on U.S. soil in CBS-4's award-winning investigative series "Invisible Chains," introduced Bok to concert attendees.
Bok told of how he was captured into slavery at age 7 and spent 10 years suffering daily beatings until he was able to escape.
Produced in partnership with the Storyville Live Freedom Tour, the concert's music was performed by singer/songwriter Willy Porter.
The inspirational evening unfolded in the Freedom Tower's Map Room, where guests entered through a special exhibition of art and poetry called "Inhuman Cargo." The exhibition featured the art of Chady.
The Storyville Live Freedom Tour was created by Seattle's Storyville Coffee, a company that donates millions of dollars annually to the International Justice Mission, which works to rescue victims of human trafficking.
MDC's Freedom Tour was chosen as the site for Storyville's kickoff concert because it best reflects the search for liberty in a diverse community.
— WV
More Features Articles